How this degree stands out
You're ready to take a bold step and harness the power of information. The University of Washington iSchool offers the curriculum and community you need to make an impact.
Through the Master of Library and Information Science, we're educating innovators and leaders of the library and information world. Our world-class faculty and flexible curriculum will help you develop the skills you need to play an essential role in any knowledge-intensive industry.
Request information
Register for an upcoming information session to learn more about the Master of Library and Information Science program.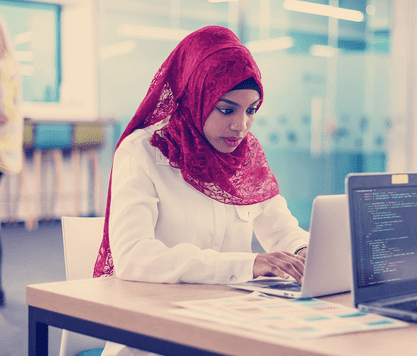 The impact of iSchool graduates
Your Master of Library and Information Science degree will open doors to a satisfying career in which you can make a positive impact. iSchool career advisors provide targeted programming to help you achieve your goals.
Our recent graduates have moved on to work as librarians, metadata specialists, information architects, web content managers, taxonomists and more.
Shape the curriculum to fit your interests and career goals. With a Master of Library and Information Science, you will be the bridge between questions and answers in the information age.
What graduates are saying
The iSchool taught me how to think flexibly and creatively about meeting the information needs of those I serve. Meeting information needs is about looking at who is coming into the library, who isn't, and why. The iSchool taught me how to look at the entirety of my community and consider a wide variety of information needs beyond reference questions at a desk."

— Mandi Harris, Online MLIS, '19, Youth Services Librarian, Coeur d'Alene, Idaho, Public Library
The iSchool was instrumental in opening doors for me. It encouraged me to network and to take on roles in student leadership, and I regularly use the concepts I learned in my indexing, information architecture, and Capstone projects. I feel so lucky that a school of such quality was in my backyard — and in the backyard of so many companies that appreciate quality taxonomy work."

— Isle Allison, Residential MLIS, '16, Senior Search and Taxonomy Analyst, Nordstrom
Program highlights
Faculty invested in your success
Both professors and practitioners, our faculty bring a unique combination of theoretical and experiential expertise to the classroom. Build relationships with our faculty through small classes and faculty-led research opportunities.
A customizable curriculum
Beyond the required core courses, you have flexibility and the option of designing a program of study specific to your interests and career goals. Enroll in electives that span topics from data ethics to digital preservation.
Accessible to all students
You don't need any prior experience in library or information science to enroll. The holistic, interdisciplinary curriculum will give you the foundational knowledge you need to be an asset to any organization.
The flexibility you need
The availability of online and in-person classes and the option to enroll at a full or part-time pace make the program flexible to meet your specific needs. Customize your classroom experience with a structure that works for you.
A world class degree
The iSchool offers the No. 2 library science master's degree in the country, as ranked by U.S. News and World Report in 2021. Explore what is possible with our ALA-accredited program.