Before Applying
Before you apply, please thoroughly research the UW iSchool and the MSIM program. Accordingly, you should be familiar with the vision, mission and values of the iSchool and have a general understanding of the academic design of the MSIM program, including its curriculum and specializations. Please be sure to use this foundational knowledge as the basis for responding to the prompts on the application. If you have questions or need help applying, don't hesitate to contact us.
Contact information
Key deadlines
Term
PRIORITY I DEADLINE – up to $3,000 merit-based scholarship
PRIORITY II DEADLINE – up to $1,300 Scholarship
FINAL APPLICATION DEADLINE*
TERM START
SUMMER 2023
AUTUMN 2023
*Merit-based scholarships may be available. All students who apply to the MSIM program will be considered for merit-based scholarships, also called the Dean's Scholarship, for up to $3,000. There is no additional application for these scholarships. Submit a completed application by the final deadline for consideration.
Contact our enrollment team at 206-686-7756 or msimonline@uw.edu for more details.
Admissions requirements
All applicants must have a bachelor's degree or higher in any discipline (must be equivalent to a baccalaureate degree from a regionally accredited U.S. institution).
Submitting official GRE or GMAT scores is required. Applicants meeting at least one of the following criteria are exempt from this requirement:

Applying to the Mid-Career degree option.
Earned a bachelor's degree or higher from a regionally accredited institution located in the United States. Learn more about accreditation and how to confirm if your U.S. institution is regionally accredited on the UW Graduate School's site.

Non-native English speakers must fulfill the UW English language proficiency requirements.
Mid-Career applicants must show five years of relevant professional experience.
The UW Graduate School has a minimum GPA requirement. As detailed on their websites, individual programs may consider qualified applicants with a GPA below a 3.0. Applicants with a lower GPA may want to provide additional information in the Extenuating Circumstances part of the application.
Statement of purpose
Your Statement of Purpose is a very important part of your application. It should be a well-written and carefully crafted essay that is 900-1,200 words in length (graphics can be included but are not required). Consider utilizing a resource to check for grammar and spelling errors. It is required that you address the following two critical questions:
Explain your decision to pursue an MSIM degree, including what information management area(s) of study interest you and how they meet your career aspirations. Mention your personal motivation, professional and academic goals in pursuing the MSIM degree, and your previous experience as it relates to the MSIM program.
How does the MSIM program at the UW iSchool align with your values and personal mission? How will you contribute to the MSIM and iSchool community? Please discuss how you align with and will contribute to the mission and vision of the iSchool as it relates to leadership, equity, inclusion, innovation and service. Tell us your story, the life opportunities and challenges you have faced and how these experiences have shaped you.
International admissions requirements
International students are welcome and eligible to apply! An international student is defined as any person who is not a U.S. citizen or a U.S. permanent resident and who requires a visa to be in the U.S., including individuals who have visas with the designation F-1, J-1, H-4, etc. International students wishing to study online are not eligible for a U.S. student visa.
There are no separate application requirements or procedures for international applicants. Please follow the same application process and submit the same materials as instructed.
Application materials
Review and/or consideration of incomplete applications or late materials is at the discretion of the MSIM admissions committee. If application materials are missing due to circumstances beyond the applicant's control, the committee will take that into consideration and make its judgment based on the information available.
All application materials must be submitted online or electronically. Do not mail paper application materials to the iSchool.
This page describes the process for online program applications. Residential applicants should follow the instructions on our on-campus MSIM Admissions page to apply through MyGrad.
Online Application

Start your

online application

Application Directions

Applicants must first select Program: "

Master of Science in Information Management

" then select a track from the below options:

Applicants to the

Mid-Career

program track should select "

Mid-Career

Online"

Applicants to the traditional Early-Career program track should select "Early-Career Online"

Applicants to the Early-Career Accelerated program track should select "Early-Career Accelerated Online"

Supporting Materials

Statement of Purpose

Letters of Recommendation (two required and third optional)

Resume or Curriculum Vitae

Specialization Selection (part of your application)

Transcripts (only unofficial transcripts are required for submission)

GRE

or GMAT Scores

Application Fee

The application fee is $85, payable online by debit or credit card through your

application

.

English Language Proficiency 

Non-native English speakers must fulfill the

UW English language proficiency requirements

.

Early-Career and Early-Career Accelerated applicants using the TOEFL iBT to fulfill this requirement should note that a minimum score of 100 is required. (Note: The MSIM admissions committee has established a higher minimum TOEFL iBT requirement than that of the UW Graduate School.)
Tuition
The MSIM program is a fee-based program. Tuition is charged on a per credit basis directly to the student. The University of Washington reserves the right to change tuition and fees without prior notice, and tuition is expected to increase in the future. Note that the cost of the MSIM program is the same for both Washington state residents and non-residents regardless of their degree option or mode of delivery (online/residential). MSIM students are eligible to receive financial aid to help cover the cost of tuition.
Tuition costs
The MSIM program offers three options to suit your experience, needs and career trajectory: Early-Career, Early-Career Accelerated and Mid-Career.
Rates for incoming students for autumn 2022, winter 2023, spring 2023 and summer 2023 terms:
Cost per credit: $969

(Cost per credit for students who enrolled prior to Autumn 2022: $950)

MSIM Early-Career Track (65 credits): $62,985
MSIM Early-Career Accelerated Track (40 credits): $38,760
MSIM Mid-Career Track (36 credits): $34,884
Additional information
There are no separate rates for in-state and out-of-state tuition.
Tuition is based on the number of credits taken. Students who choose to take more credits than the number needed for the degree will pay more than the total amount listed.
There may be a tuition increase of 1-3% in the academic year 2023-2024 and beyond.
In addition to tuition, fee-based degree students pay required student fees that include a $55 registration fee each quarter and a $250 non-refundable deposit upon acceptance of the offer of admission. Some courses may have additional costs for course materials such as textbooks, articles or software. Student fees assessed for the previous academic year can be reviewed on the fee-based registration page. Fees may increase annually.
LEARN MORE ABOUT TUITION AND FINANCIAL AID
MSIM scholarships
All students who apply to the MSIM program by the priority I or II deadline will be considered for merit-based scholarships, also called the Dean's Scholarship. There is no additional application required for these scholarships; the MSIM program application will act as your scholarship application.
Additionally, the MSIM program offers a Supplemental Award that students can apply for in a separate section of the regular application. To be eligible for this scholarship, students must have completed their application by the priority II deadline for the term they are applying for and must complete either a FAFSA or WAFSA application. Particularly meritorious students may be able to receive both a merit-based scholarship and a Supplemental Award. Funding is extremely limited and is not guaranteed to any individuals. MSIM Supplemental Awards will be given for one term and will not exceed $3,000. We will notify all applicants who follow the process as soon as a decision is made.
This process is separate from federal financial aid, for which eligible students should also apply.
MSIM SUPPLEMENTAL AWARDS DEADLINES
| | |
| --- | --- |
| Quarter Start | Application Deadline |
| Summer 2022 | April 6, 2022 |
| Autumn 2022 | July 13, 2022 |
Is a master's in information management worth it?
Thanks to a cutting-edge curriculum that reflects the most current challenges and trends in the information management industry, MSIM students can immediately apply classroom lessons to their current work and often learn strategies that their employers have not yet implemented or discovered. MSIM graduates are leaders in the field and highly sought-after employees who can spur actionable change in their organizations.
LEARN MORE ABOUT MSIM STUDENT OUTCOMES
Office of financial aid
The structure of financial aid, scholarships and other forms of educational support for graduate students works differently from what you experienced as an undergraduate. The good news: aid is available for graduate school. The challenge: You need to be more proactive in researching the types of funds available and searching through a variety of funding sources.
Learn more about the sources available to help fund your education: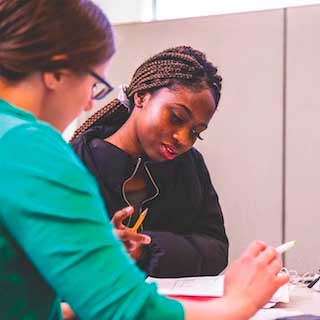 Helpful tips for finding financial aid
Navigating the financial responsibility of a master's degree can often be as challenging as the degree itself. Here are some tips on how to better prepare for the cost of your degree:
Don't wait.
Don't wait until you are admitted to search and apply for funding. Scholarship deadlines tend to be in mid-winter. You may not have your admissions decision by the time deadlines occur.
Do your research.
Look for funding that will match your specific goals, background and interests.
Ask for an adjustment.
Financial aid for the first year is based on your income from the previous year. Students are eligible for financial aid with as few as five credit hours per term. When your employment status changes, inform UW Financial Aid of your current income. Also, let the office know if you need to buy any items, such as a new computer, to support your studies. These items can also help increase your financial aid.
Submit the FAFSA.
Most loans are based on the FAFSA, as are some scholarships. The priority deadline to submit the FAFSA for the UW iSchool is June 30 each year.