It was 2015, and the timing was right. The iSchool's Master of Science in Information Management program needed an infusion of energy, and Hala Annabi and Sean McGann were ready for a challenge.
Harry Bruce, then the iSchool dean, made them an offer they couldn't pass up: come to Seattle and reinvigorate the MSIM program. For McGann, who was chair of the Computer Information Systems Department at Appalachian State University, it was a chance to come in as program chair and do the work that really excited him — teaching and developing programs. For Annabi, who was chair of the Management Information Systems Department at Ohio University, it was a chance to return home and rejoin the iSchool faculty as an associate professor after several years away. For both of them, it was a chance to live and work as a married couple in the same city rather than 300 miles apart.
Since their arrival five years ago, they have been the MSIM program's dynamic duo, modernizing it and defining its niche as a program that produces data driven, socially conscious information leaders.
In the past five years, the program has reorganized its core courses and specializations and put them all on a set schedule; it's added an Early-Career Accelerated track that can be completed in a year and shortened the Mid-Career MSIM; it's added fully online tracks; it's strengthened ties to local employers and brought alumni in to mentor students; and it's added top-notch faculty to teach its growing cohorts.
"Sean and Hala have such incredible passion for the school and for this program. It's contagious," Dean Anind Dey said.
When they arrived, the program was attracting strong students and producing graduates who were in high demand in the job market, but it had difficulty serving students well enough during their time at the iSchool. Course scheduling made it difficult for some to complete their specializations.
McGann listened to feedback from students and alumni and developed a strategy to address it. He put classes on a reliable schedule and offered more of them in the evening so that Mid-Career students could attend. He led a revamp of the specializations, including the addition of a popular one in business intelligence, and changed the registration process to ensure that students could get the classes they needed.
"Sean created the roadmap and asked the difficult questions, and re-envisioned how we can calibrate our work to meet student demand, employer demands, faculty expertise and interest, and school values," Annabi said.
McGann reoriented the program toward the direction the information management field was going, adding more of a business flavor and finding its sweet spot. As a result, the MSIM is attracting students who want to develop an awareness of both the organizational and technical sides of information management.
* * *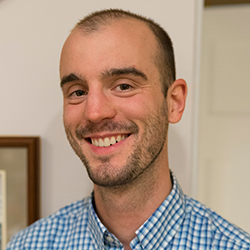 Alex Osuch, '20, was looking for that blend when he applied to the MSIM program. He considered law and MBA programs, but opted for the Mid-Career MSIM because he found it more interesting and forward-looking.
"I think big information systems are going to have a social impact," said Osuch, who now works at the cybersecurity firm Coalfire. "I wanted to know how these huge companies use these systems and how they work."
Before applying to the Early-Career MSIM track, Jenny Li, '19, had worked for a couple years in marketing at Disneyland and in product management at a startup in Beijing. Li said that after the chaotic atmosphere of a startup, the MSIM program gave her the structure and skillset she needed to succeed at a company like Godaddy, where she now works as a product manager.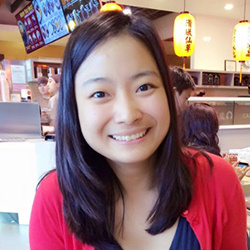 "I wasn't technical at all, and the MSIM program helped me build out the technical skills," she said. "It provided me the framework and some tools that I can use to navigate. My current role is very back-end focused and technical. Having that half-and-half balance really helped ground me for my job."
Li and Osuch both found Annabi's core class in strategic leadership class particularly useful in understanding how information organizations work and how to succeed within them.
"I like her emphasis on leadership and approaches we can employ in everyday life and work," Li said.
* * *
Annabi employed those leadership and operational skills as program chair starting in 2019, when she took the reins from McGann. Where creating a new vision and structure for the program played to McGann's strengths, executing that vision played to Annabi's.
Annabi has focused on increasing access to the program, particularly among underserved communities. Adding fully online tracks is a prime way to add access to the MSIM, and she has spent much of the past year leading the effort to get them up and running. The first fully online MSIM cohorts will begin their studies in spring.
"She's an extremely astute operational person, digging down into the details and making sure the operation is humming and that we're doing everything as efficiently as possible," said McGann, who continues to teach in the program. "She is a master at executing. That's rolling the sleeves up and doing the tough work to get these things moving forward and making sure they're continuously improving and successful."
Both Annabi and McGann are quick to credit Dey for his support and other faculty for showing a passion for the MSIM and serving as "champions" for the specializations. Chirag Shah, Emma Spiro and Jevin West have shaped the data science courses; Jacob O. Wobbrock has led the way on user experience, and Mike Doane on information architecture. The addition of Andrew Reifers has been a boon to the cybersecurity specialization. Richard Sturman has been a key contributor, teaching core courses and now leading the iSchool Capstone endeavor. Annie Searle has made a big impact, particularly on the Mid-Career track. They're just a few among a large contingent of core and guest faculty who have contributed to the program's success.
Doane, who teaches several iSchool courses, credits the combination of McGann's business background and Annabi's expertise with information science for finding the MSIM's niche. Its roots are in library science, but its focus is on core aspects of information management such as user experience, information security, information architecture and data science. Its courses are infused with a social conscience, teaching awareness of the ramifications of people's decisions.
"We're attracting students who aren't quite the MBA mold and aren't quite the computer science mold. I think that hybrid is where our strength is," Doane said.
* * *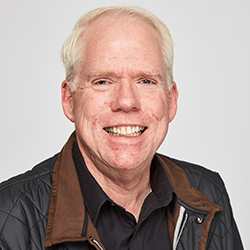 Doane said the program has gained from both McGann's strategizing and from Annabi's hands-on, decisive leadership.
"We appreciated Sean for what he did, and we appreciate Hala for what she's doing," he said. "They're different, and I think they had to be. It's benefited us that they're not the same. It's a yin and yang, it's a balance."
There's also a balancing act involved in working closely together as a married couple, but Annabi and McGann try not to let too much shop talk invade their personal lives. They enjoy cooking and hiking together, and going on long walks. They bring the same energy to their lives away from the job that they have to the MSIM program.
"We're all about the outdoors, health and wellness," McGann said. "We walk for hours and hours around Seattle or wherever we might be. A good day for us is 30,000-plus steps."